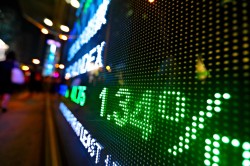 NASB Financial, Inc. (OTCMKTS:NASB) declared a quarterly dividend on Thursday, June 6th, Zacks reports. Shareholders of record on Monday, June 17th will be paid a dividend of 0.50 per share by the financial services provider on Friday, June 28th. This represents a $2.00 annualized dividend and a yield of 4.76%. The ex-dividend date is Friday, June 14th.
Shares of NASB Financial stock opened at $41.98 on Thursday. NASB Financial has a 1 year low of $33.31 and a 1 year high of $43.70. The stock has a market cap of $310.14 million, a price-to-earnings ratio of 9.72 and a beta of 0.02.
COPYRIGHT VIOLATION NOTICE: "NASB Financial, Inc. (OTCMKTS:NASB) to Issue $0.50 Quarterly Dividend" was posted by Riverton Roll and is owned by of Riverton Roll. If you are viewing this report on another publication, it was illegally stolen and republished in violation of United States & international copyright laws. The original version of this report can be viewed at https://rivertonroll.com/news/2019/06/13/nasb-financial-inc-otcmktsnasb-to-issue-0-50-quarterly-dividend.html.
About NASB Financial
NASB Financial, Inc operates as the unitary thrift holding company for North American Savings Bank, F.S.B. that provides various banking services in the United States. The company accepts a range of deposit products, which include demand deposit accounts, savings accounts, money market demand accounts, brokered accounts, and certificates of deposit.
Featured Article: Penny Stocks, What You Need To Know
Receive News & Ratings for NASB Financial Daily - Enter your email address below to receive a concise daily summary of the latest news and analysts' ratings for NASB Financial and related companies with MarketBeat.com's FREE daily email newsletter.