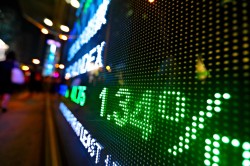 Airtel Africa Limited (LON:AAF) hit a new 52-week low during mid-day trading on Monday . The stock traded as low as GBX 61.15 ($0.80) and last traded at GBX 62.80 ($0.82), with a volume of 164966 shares. The stock had previously closed at GBX 63 ($0.82).
Separately, Barclays began coverage on Airtel Africa in a report on Thursday, August 8th. They issued an "overweight" rating and a GBX 85 ($1.11) price target on the stock.
The company has a debt-to-equity ratio of 199.01, a current ratio of 0.46 and a quick ratio of 0.42. The business has a 50-day simple moving average of GBX 67.08.
In other news, insider Arthur Tao Yih Lang acquired 39,685,000 shares of the company's stock in a transaction that occurred on Wednesday, July 3rd. The shares were acquired at an average price of GBX 80 ($1.05) per share, with a total value of £31,748,000 ($41,484,385.21).
Airtel Africa Company Profile (LON:AAF)
Airtel Africa Limited provides mobile telecommunication services to customers in Nigeria, East Africa, and rest of Africa. It offers services to approximately 99 million small, medium, and high-usage customers; mobile data services to 30 million customers; and mobile banking services. The company was incorporated in 2018 and is based in London, the United Kingdom.
Further Reading: How the Consumer Price Index (CPI) is calculated?

Receive News & Ratings for Airtel Africa Daily - Enter your email address below to receive a concise daily summary of the latest news and analysts' ratings for Airtel Africa and related companies with MarketBeat.com's FREE daily email newsletter.