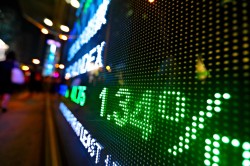 Financial 15 Split Corp. (TSE:FTN) Director Peter F. Cruickshank bought 20,000 shares of Financial 15 Split stock in a transaction dated Monday, March 23rd. The stock was acquired at an average price of C$6.86 per share, with a total value of C$137,200.00. Following the purchase, the director now directly owns 20,000 shares of the company's stock, valued at C$137,200.
Shares of FTN traded up C$0.63 during trading hours on Thursday, hitting C$4.91. The company's stock had a trading volume of 367,947 shares, compared to its average volume of 318,918. The company has a market cap of $184.90 million and a price-to-earnings ratio of 3.48. The company has a debt-to-equity ratio of 163.15, a current ratio of 1.60 and a quick ratio of 1.60. The business has a 50 day simple moving average of C$6.05 and a two-hundred day simple moving average of C$6.73. Financial 15 Split Corp. has a 52-week low of C$3.55 and a 52-week high of C$8.33.
About Financial 15 Split
Financial 15 Split Corp. is an close ended equity mutual fund launched by Quadravest Inc It is managed by Quadravest Capital Management Inc It invests in the public equity markets of the United States and Canada. The fund primarily invests in stocks of companies operating in the financials sector. Financial 15 Split Corp.
Featured Story: What are the benefits of a balanced fund?
Receive News & Ratings for Financial 15 Split Daily - Enter your email address below to receive a concise daily summary of the latest news and analysts' ratings for Financial 15 Split and related companies with MarketBeat.com's FREE daily email newsletter.