World Acceptance (NASDAQ:WRLD) will issue its quarterly earnings data before the market opens on Thursday, May 6th. Analysts expect the company to announce earnings of $4.68 per share for the quarter. Parties that are interested in participating in the company's conference call can do so using this link.
WRLD traded down $3.55 on Tuesday, reaching $126.70. The company had a trading volume of 27 shares, compared to its average volume of 56,458. The business has a 50 day simple moving average of $131.28 and a 200 day simple moving average of $121.10. The company has a market cap of $862.19 million, a price-to-earnings ratio of 25.00 and a beta of 1.79. The company has a debt-to-equity ratio of 0.90, a quick ratio of 11.23 and a current ratio of 11.23. World Acceptance has a 52-week low of $47.72 and a 52-week high of $170.98.
WRLD has been the topic of a number of recent analyst reports. TheStreet raised shares of World Acceptance from a "c+" rating to a "b" rating in a research note on Tuesday, February 9th. Zacks Investment Research downgraded shares of World Acceptance from a "strong-buy" rating to a "hold" rating in a research note on Thursday, April 8th. Finally, Jefferies Financial Group reissued a "sell" rating and set a $57.00 price target on shares of World Acceptance in a research note on Tuesday, April 13th.
In other news, Director Darrell E. Whitaker sold 630 shares of the firm's stock in a transaction that occurred on Tuesday, February 16th. The shares were sold at an average price of $132.53, for a total value of $83,493.90. Following the transaction, the director now owns 8,640 shares in the company, valued at $1,145,059.20. The sale was disclosed in a document filed with the Securities & Exchange Commission, which can be accessed through
the SEC website
. Also, CEO R Chad Prashad sold 1,706 shares of World Acceptance stock in a transaction on Friday, February 5th. The shares were sold at an average price of $130.15, for a total transaction of $222,035.90. Following the completion of the sale, the chief executive officer now owns 80,327 shares in the company, valued at approximately $10,454,559.05. The disclosure for this sale can be found
here
. Insiders sold 19,240 shares of company stock worth $2,587,750 in the last 90 days. Company insiders own 36.80% of the company's stock.
World Acceptance Company Profile
World Acceptance Corp. engages in the small-loan consumer finance business. It offers short-term small instalment, medium-term larger loans, related credit insurance, ancillary products and services to individuals. The company also offers income tax return preparation services to customers. It also markets computer software and related services to financial services companies through its subsidiary ParaData Financial Systems.
Recommended Story: Are FAANG stocks a good investment?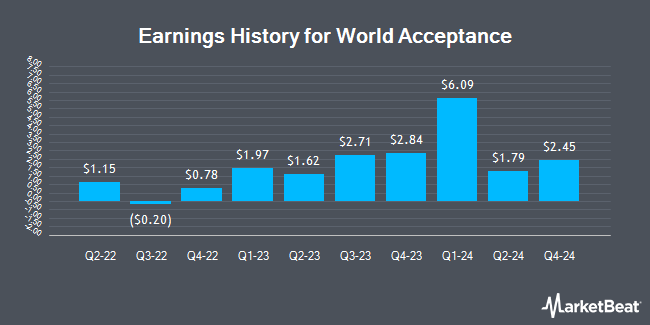 Receive News & Ratings for World Acceptance Daily - Enter your email address below to receive a concise daily summary of the latest news and analysts' ratings for World Acceptance and related companies with MarketBeat.com's FREE daily email newsletter.